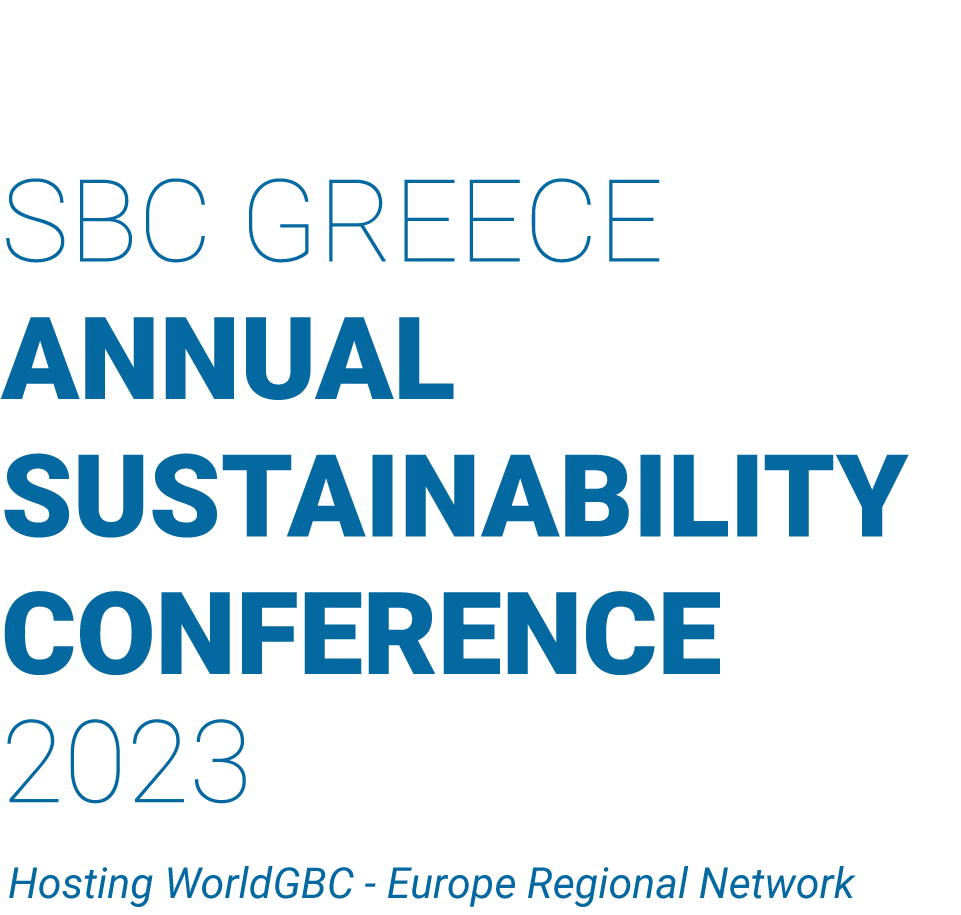 19.10.2023
10.00-18.00
SBC Greece organizes its Annual Sustainability Conference 2023 on October 19 at the Athens Marriott hotel.
Its main target is to inform on the latest trends and increase networking of all relevant stakeholders. The Conference will present the latest trends and current status of sustainability in the built environment. National and international leaders, among others, rrepresentatives from WGBC, LEED, BREEAM, DGNB, WELL, EDGE, will present and discuss on circular economy, taxonomy, health and wellbeing in the built environment, design tools, construction, and refurbishment of sustainable buildings. Additionally, presentations and discussions will include certified buildings, best practices, the business case of sustainability and sustainable/green financing.
Current trends and the status of sustainability in the built environment
The business case of sustainability in the built environment
Certified buildings in Greece and energy crisis
More details on the conference program will be announced soon.
Participation fee:
SBC Greece members

(1 person from each company)

: free

Non- members: 100 Euro + VAT
To register for the conference please fill the expression of interest form.:
You will then need to deposit the participation fee (100 Euro +VAT) to the following bank account:
PIRAEUS BANK
ACCOUNT NO: 5193-078682-184
IBAN: GR4401721930005193078682184
NAME: SUSTAINABLE BUILDING COUNCIL GREECE – ΣΥΜΒΟΥΛΙΟ ΑΕΙΦΟΡΩΝ ΚΤΙΡΙΩΝ ΕΛΛΑΔAΣ
And send the bank receipt to:
[email protected]
The conference is addressing diverse professionals operating in the property and infrastructure industry in Greece. Indicatively, the following sectors are described:
Design (Architects, Building Services engineers etc.)
Construction (Contractors, Property developers)
Management (Facility Management / Project Management / Portfolio Management)
Supply Chain
Investment (Real Estate Investment Companies and Funds)
Consultants and Sustainability Professionals
Valuers and Real Estate Brokers
Property Owners
Academics and Researchers
Start up companies
Sustainability is not a project but a way of life determining the prospects of development. The conference is a dynamic meeting addressing Sustainability in the Built Environment, aiming at updating and strengthening awareness, knowledge and networking among diverse groups of industry stakeholders.
Latest Developments & Current Trends
Keep up to date with the latest developments and current trends in sustainability.
Networking & Collaborations
Network with sustainability professionals and create the foundations for collaborations that will assist in developing your personal career and business plans.
Exchange views and dialogue
Create a dialogue for the challenges you are facing and exchange views with industry experts.
Transparency & Behaviour
Get to know the importance of transparency and behaviour in sustainability.